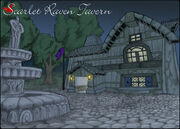 Scarlet Raven Tavern (aka Scarlet Raven Inn), is located in Darkshire, Duskwood.
According to current RP that has been graciously acknowledged by the community:
Shortly after Shadow Song established Darkshire as their base of operations, it was brought to the attention of Thanatosa that the Tavern was up for sale. The previous owner was missing and taxes unpaid. In (September 2008) a brief time later the Tavern was sold to Thanatosa.
Since the purchase, the Scarlet Raven has been renovated. Many of the worn down boards replaced. The third floor (Which is not in the game, but can be seen from outside the inn.) has been reopened providing three extra rooms for rent.
The Scarlet Raven is frequented by many seeking a place to rest, visit with friends or grab a hot meal.
Every night free fresh pie and coffee is placed out on the counter for patrons to help themselves through.
The Scarlet Raven houses Shadow Song, and Marius Defairwryn's medical practice.
Other Notes
Edit
To date it has been established/said that:
Every evening the staff sends a "decent" amount of left over food from the days meals out to the towns people who need it.
Left over sweets are sent off to the Stormwind Orphanage every morning.
Many donations have gone out to local projects in attempts to rehabilitate the area.
Many of the local kids will come in after their studies for cookies from the kitchen. Often a "Billy" leaves his baseball bat behind.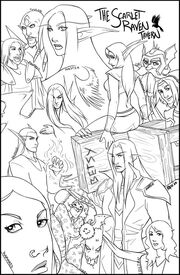 BBQ at the Beach!: August 13th, 2009 7pm.
The Scarlet Raven staff will be headed over to the beach outside Booty Bay in Stranglethorn Vale for a day in the sun! Volley Ball, swimming, raffles and food for everyone!. As night rolls in, a fire works display will be put on by Shadow Song's Chief Engineer!

Bards Night: August 28th, 2009 7pm.
Come by the Scarlet Raven to enjoy a ice cold ale and a good old fashioned tale or two! Got a story to tell? Come and share!

All events are open to the public. Come, have fun and make new friends! We only ask you keep extensive OOC to tells.
Web Site
Edit